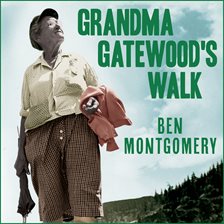 Grandma Gatewood's Walk by Ben Montgomery
Narrator: Patrick Lawlor
The Inspiring Story of the Woman Who Saved the Appalachian Trail
Emma Gatewood told her family she was going on a walk and left her small Ohio hometown with a change of clothes and less than two hundred dollars. The next anybody heard from her, this genteel, farm-reared, sixty-seven-year-old great-grandmother had walked 800 miles along the 2,050-mile Appalachian Trail. And in September 1955, atop Maine's Mount Katahdin, she sang the first verse of "America, the Beautiful" and proclaimed, "I said I'll do it, and I've done it. "Grandma Gatewood", as the reporters called her, became the first woman to hike the entire Appalachian Trail alone, as well as the first person-man or woman-to walk it twice and three times. The public attention she brought to the little-known footpath was unprecedented. Her vocal criticism of the lousy, difficult stretches led to bolstered maintenance and very likely saved the trail from extinction.
Thoughts
I don't remember where I first saw this book, but as soon as I did I knew I was going to find a copy because I LOVE books like this, and it was doubly interesting because Grandma Gatewood was going to walk the length of the Appalachian Trail! At the age of 67! I was in awe of Emma! She wanted to walk the trail "on a lark". She was a mother of 11, a grandmother of 23, and a survivor of more than 30 years of violent domestic abuse.
One of my favorite Emma quotes is "if those men can do it, I can do it." And she did, 3 times!
What I didn't know until I started listening to the book was that she was from a place I am very familiar with. I grew up in Columbus, Ohio and my family had a cabin on Lake Jackson in Oak Hill, Ohio. In the summer between Jr. High and High School, my parents decided to hire someone to build a house on the land  so we could live at the lake full time.
Oak Hill was so small it was (still is) a Village, the nearest hospital to have a baby was in Gallipolis, where Emma Gatewood lived. All three of my kids were born in Gallipolis, and many places mentioned in the book are places I'm very familiar with, like Sardis, Ohio where my family lived when I was baby and visited friends there when I was growing up,  Old Man's Cave where I went many times with my family and the Girl Scouts, Columbus, and many other towns/places in the area.
The author, Ben Montgomery, is the nephew of Emma Gatewood. He spent most of his 20 year newspaper career as an enterprise reporter for the Tampa Bay Times. He currently lives in Tampa, which is also interesting because I live  40 min. from Tampa.
I loved this book, but it is extra special to me because I was familiar with so many places in the book and familiar with where the author lives.
I think anyone interested in hiking, strong women, or books about woman in general will love this book!
In the book the narrator pronounces Gallipolis as "Gal O Police", as do other people not from the area. Everyone who lives in the area or is familiar with Gallipolis pronounces it "Gal A Polis".
My rating: 5*