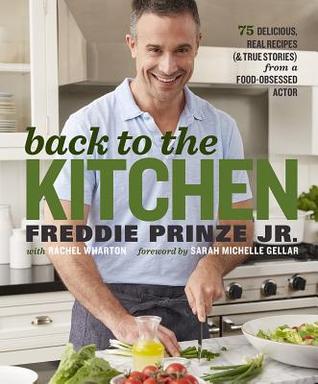 Back To The Kitchen by Freddie Prinze Jr.
Hardcover: 224 pages
Publisher: Rodale Books (June 7, 2016)
Language: English
ISBN-10: 1623366925
ISBN-13: 978-1623366926
Most people know Freddie Prinze Jr. from movies (She's All That, Scooby Doo, Star Wars Rebels) and as one half of beloved Hollywood power couple with Sarah Michelle Gellar. But to family, friends, and co-stars he's always been a terrific father and skilled home cook who prepares delicious meals for his family every night.
Freddie grew up in New Mexico cooking with his mother and eating dishes with a ton of flavor and spice from his Puerto Rican heritage. His eggs come New Mexico style, served with from-scratch biscuits and green-chile gravy. His tacos are the real deal: soft tortillas, homemade salsa, filled with steak layered with quick-pickled cucumbers, or spicy fish dressed with watermelon and thai chiles. Now in this family-focused cookbook, Freddie teaches fans to cook his mainstays, the recipes that he makes on even the busiest weeknights, as well as more luxurious date night meals.
With personal family photos from Freddie and Sarah's beautiful LA home and Freddie's hilarious stories about the life of an actor, husband, and father in Hollywood, Back to the Kitchen shares more than just recipes. It's an inside look at a beloved movie and TV personality who has acted, cooked, and eaten his way around the world.
Thoughts
I was a fan of Freddie Prinze and when I first saw his son Freddie Prinze Jr. on tv I became a fan of his too, so, when I saw this cookbook at my library I grabbed it.
The book has a lot of recipes that I think I'd like to make like Thai Chicken Curry Soup, Roasted Brussels Sprouts, Marinated Skirt Steak with Cherry Tomatoes and Avocado Salsa, and more.
The book has great photos of some of the food and "Secret Tricks" for a lot of them. There are some interesting stories of his family and friends. Freddie is married to actress Sarah Michelle Gellar and has two children, a boy and a girl, and there are also photos of them in the book.
I just got the book yesterday and haven't had time to make anything yet but I will, and I'll post about the recipes when I do.
I love this cookbook and am thinking about buying a copy. The recipes don't have a ton of ingredients and sound easy to make, which is a big hit with me.