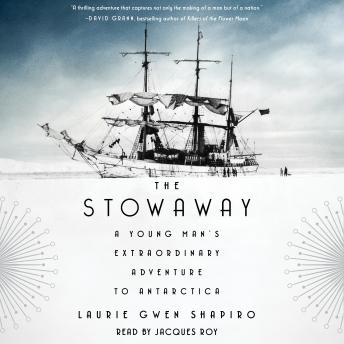 The Stowaway: A Young Man's Extraordinary Adventure to Antarctica
by Laurie Gwen Shapiro
Narrated by Jacques Roy
Listening Length: 6 hours and 28 minutes
Program Type: Audiobook
Version: Unabridged
Publisher: Simon & Schuster Audio
Audible.com Release Date: January 16, 2018
Language: English
ASIN: B078462RYY
The spectacular true story of a scrappy teenager from New York's Lower East Side who stowed away on the Roaring Twenties' most remarkable feat of science and daring: an expedition to Antarctica.
It was 1928: a time of illicit booze, of Gatsby and Babe Ruth, of freewheeling fun. The Great War was over, and American optimism was higher than the stock market. What better moment to launch an expedition to Antarctica, the planet's final frontier? This was the moon landing before the 1960s. Everyone wanted to join the adventure. Rockefellers and Vanderbilts begged to be taken along as mess boys, and newspapers across the globe covered the planning's every stage.
The night before the expedition's flagship launched, Billy Gawronski – a skinny, first-generation New York City high schooler desperate to escape a dreary future in the family upholstery business – jumped into the Hudson River and snuck aboard.
Could he get away with it?
From the grimy streets of New York's Lower East Side to the rowdy dance halls of sultry Francophone Tahiti, all the way to Antarctica's blinding white and deadly freeze, Laurie Gwen Shapiro's The Stowaway takes you on the unforgettable voyage of a gutsy young stowaway who became an international celebrity, a mascot for an up-by-your-bootstraps age.
THOUGHTS
This book was not what I thought it would be. I love true life adventure stories and was very excited to listen to The Stowaway. I wanted to go along with Billy to Antarctica, and experience all he did. Sadly, the book did not give me that. I  thought the book started out good. We learned about Billy, his parents, and his attempt to stowaway on the trip to Antarctica. We were told how he did this, how he was discovered, and then most of the book was focused more on other people and facts leading up to, during, and after the trip to Antarctica.
You can tell the author did a lot of research, and it was all interesting, it just wasn't what I thought the book would be about. I wanted to take a trip to Antarctica. I barely got that from the book.
The narrator spoke in a dull monotone.  I easily could have fallen asleep, but I listened while driving so I didn't. Only once or twice while he was repeating what a character in the book said did his voice come alive.
If you go into this book knowing that doesn't give much of Billy's personal experience, it may be a better fit for you than it was for me. I do know that I'm in the minority with my thoughts.
Counts toward the following challenges: