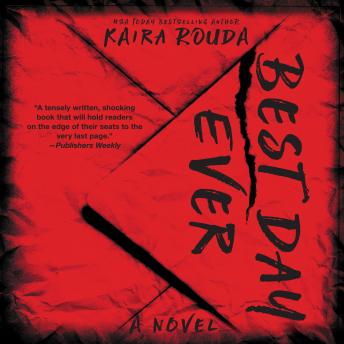 Best Day Ever by Kaira Rouda
Narrated by Graham Halstead & Amy McFadden
Audible Audio Edition
Listening Length: 7 hours and 56 minutes
Program Type: Audiobook
Version: Unabridged
Publisher: Harlequin Audio
Audible.com Release Date: September 19, 2017
"As I opened the door and stepped into the humid night, her scream followed me out. But I knew there was still love for me in her heart….
"I'm unforgettable."
Paul Strom has the perfect life: a glittering career as an advertising executive, a beautiful wife, two healthy boys, and a big house in a wealthy suburb. And he's the perfect husband: breadwinner, protector, provider. That's why he's planned a romantic weekend for his wife, Mia, at their lake house, just the two of them. And he's promised today will be the best day ever.
But as Paul and Mia drive out of the city and toward the countryside, a spike of tension begins to wedge itself between them, and doubts start to arise. How perfect is their marriage, or any marriage, really? How much do they trust each other? Is Paul the person he seems to be? And what are his secret plans for their weekend at the cottage?
Forcing us to ask ourselves just how well we know those who are closest to us, Best Day Ever crackles with dark energy, spinning ever tighter toward its shocking conclusion. In the best-selling vein of The Couple Next Door and The Dinner, Kaira Rouda weaves a gripping, tautly suspenseful tale of deception and betrayal dark enough to destroy a marriage…or a life.
Thoughts
It had been a while since I've read a thriller so when I kept seeing glowing reviews of this book I decided I'd give it a listen. Oh how glad I am that I did!
Paul Strom is successful, he's handsome, he's a good husband & father. At the beginning of the book, about 5 minutes, I liked him, he seemed to love his family and be thoughtful. But then he kept talking.  And the more he talked the more I discovered that he's the biggest narcissist I've ever ran across in my years of reading.
As they ride in the car to their lake house, little arguments start and I can tell something is going to happen to make this not the best day ever. And boy does it. I don't want to give to much away and spoil it for anyone who wants to give the book a try, so I won't say much more. I think anything else will be "tmi" since the book was all about the "bad" parts of the day.
Paul narrates the whole book from his viewpoint. I kept wanting to hear Nia's side but she didn't get a voice until the end.
I wish the book had been longer. I want to know what the future brought for Paul, Nia, and the boys. We got a little info about Nia and the boys future, but I wanted to know what the future held for Paul.
Both narrators did a great job, especially Paul. He WAS the character.
I could not stop listening to this audiobook. It's definitely going on my list of favorites for 2018.
Counts toward the following challenge: