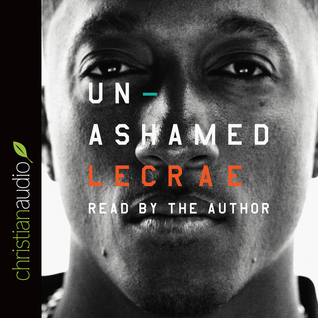 Unashamed by Lecrae Moore
Narrated by: Lecrae Moore
Length: 4 hrs and 17 mins
Unabridged
Release date: 05-03-16
Language: English
Publisher: Christianaudio
If you live for people's acceptance, you'll die from their rejection.
Two-time Grammy winning rap artist, Lecrae, learned this lesson through more than his share of adversity—childhood abuse, drugs and alcoholism, a stint in rehab, an abortion, and an unsuccessful suicide attempt.
Along the way, Lecrae attained an unwavering faith in Jesus and began looking to God for affirmation. Now as a chart-topping industry anomaly, he has learned to ignore the haters and make peace with his craft. The rap artist holds nothing back as he divulges the most sensitive details of his life, answers his critics, shares intimate handwritten journal entries, and powerfully models how to be Christian in a secular age.
This is the story of one man's journey to faith and freedom.
THOUGHTS
I've never been a fan of  hip-hop and had never heard of Lecrae Moore before seeing this book. To be honest, I never really gave Christian hip-hop a chance because of the few times I've heard secular hip-hop. Don't like it at all. But, I'd be more open to listening to Christian hip-hop after listening to this audiobook.  Each chapter began with a sample of one of his songs. Because of the messages  in them, I think I may enjoy it.
Anyway…Wow! What a great testimony! Lecrae had a tough life and had to grow up way faster than he should have. He finally got the life he wanted, but it was a long hard battle, sometimes he hindered himself.
Whether you like Christian hip hop or not, this is an interesting book. It's short, but his story is huge! And even if I never become a fan of Christian hip-hop, I am a fan of Lecrae Moore!
Counts toward the following challenges: