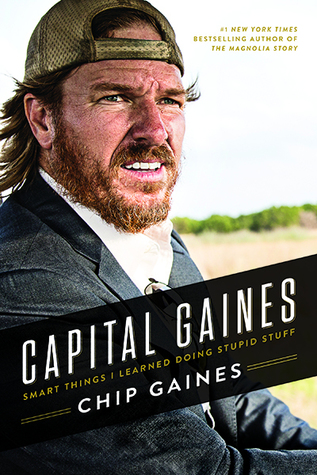 Capital Gaines by Chip Gaines
Narrated by: Chip Gaines, Joanna Gaines, Melinda Paul, Rachel Agee, Gabe Wicks
Length: 5 hrs and 7 mins
Unabridged
Release date: 10-17-17
Language: English
Publisher: Thomas Nelson
The funny and talented Chip Gaines is well known to millions of people as a TV star, renovation expert, bestselling author, husband to Joanna, and father of four in Waco, Texas. But long before the world took notice, Chip was a serial entrepreneur who was always ready for the next challenge, even if it didn't quite work out as planned. Whether it was buying a neighborhood laundromat or talking a bank into a loan for some equipment to start a lawn-mowing service, Chip always knew that the most important thing was to take that first step.
Now a #1 New York Times bestselling book, Capital Gaines offers readers a ringside seat as Chip relives some of his craziest antics and the lessons learned along the way. His mentors taught him to never give up and his family showed him what it meant to always have a positive attitude despite your circumstances. Throw in a natural daredevil personality and a willingness to do (or eat!) just about anything, and you have the life and daily activity of Chip Gaines.
Capital Gaines is the perfect book for anyone looking to succeed not only in business but more importantly in life.
Thoughts
I've watched Fixer Upper for a years and love not only the show but Chip and Joanna and their relationship. Chip never fails to make me lol and I enjoy the banter between the two of them. I also love the way they transform a so so house into a beautiful place to call home.
As soon as I saw this book I knew I wanted to read it. I learned a lot about Chip that I didn't know. I learned about his childhood, that he owned a few businesses when he was young, and his love for family and friends, and so much more.
He takes you on a very interesting journey of his life and I enjoyed every minute of it. Whether you are a Chip fan or not, this book is so worth reading/listening to, a 5★.